>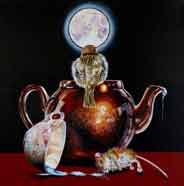 jane ford art
OBSERVATIONS OF A CURIOUS NATURE.
With an all consuming passion for British Wildlife combined with a quirky, dark, Northern sense of humour, the main subject of each painting is transformed from a natural pose into a completely obscure and unusual setting.
With a natural leaning towards the Gothic Genre which includes Victorian engines, optical and astronomical instruments and even Medieval inventions to add to the mix.
The great diversity of British wildlife and the imagination of connecting birds and animals with unrelated objects opens up endless possibilities for paintings.
The whole is brought together with the naming of the work……it's all in the title.
---
Represented by
WING GALLERY
High Street, Wadhurst, East Sussex. TN5 6AA
www.wingartgallery.com
FOSSE FINE ART GALLERY
The Manor House, The Square, Stow on the Wold. GL54 1AF
www.fossegallery.com
IMAGINE GALLERY
Hall Street, Long Melford, Sudbury. CO10 9JQ
www.imaginegallery.co.uk
FFIN Y PARC GALLERY
Betws Road, Llanrwst, Conwy LL26 0PT
www.welshart.net